Across the top of the page, these 3 icons will appear:

Exchange Video - for more information, please visit:

Here you will find an explanation of the various icons that you will come across on the
My Video
page. Depending on your access (admin, coach, athlete), you may not see all of these icons listed.
1.)
Download Game
-
The d
ownload buttons allows you to send yourself a download link for that game.
*Links will be active for two months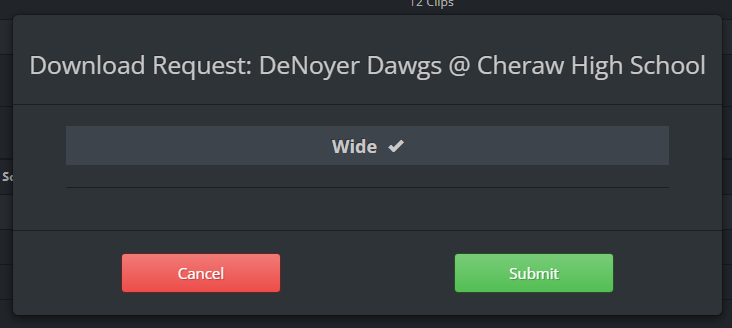 2.)
Move Game -
This icon will only be visible for playlists, scout games and practices; The move game button allows you to select a season game to move to your scout game or practice under, instead of leaving them in the Misc Games folder. You may also use this button to move playlist, scout game, etc.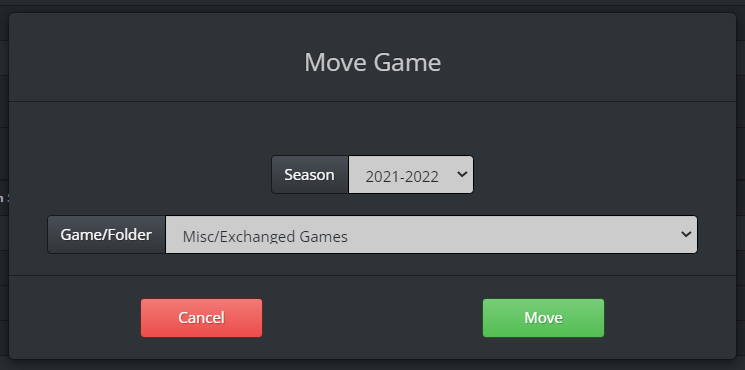 3.)
Edit Game Info
- After clicking the Edit Game Info button, you will have the option to edit:
game type




date




time




s

eason


opponent




home/away




score




event info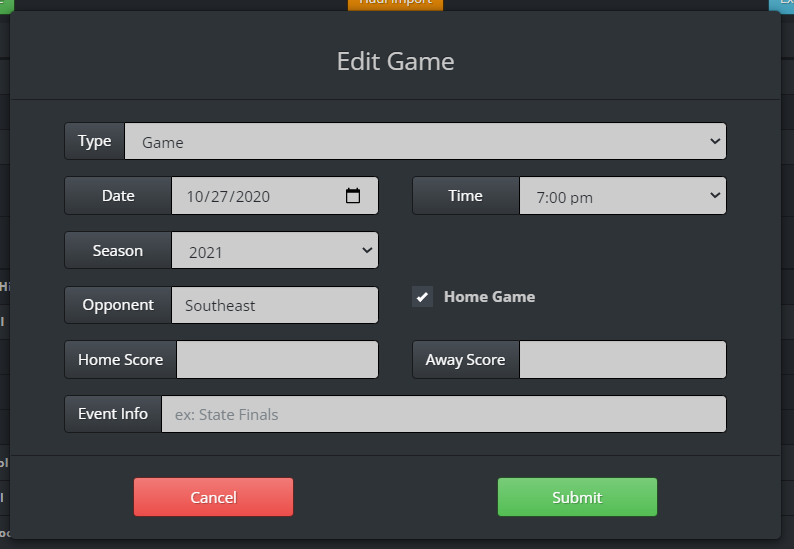 4.)
Hide From Athletes -
This button allows you to hide the game from your athletes. After clicking on it, the button will turn red, letting you know that the game is hidden.

5.) Copy Game - This button allows you to create a copy of the game to be stored in under a different game/folder if needed.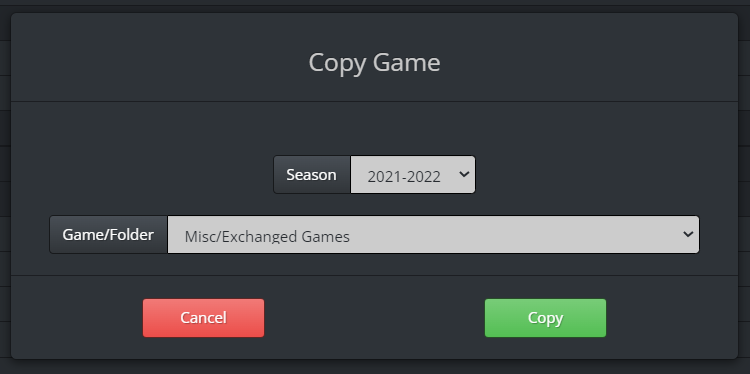 6.) Move to Main Schedule - This icon will only be visible for scout games; This button will allow you to move a scout game into main schedule, you will have a pop up window confirming the action prior to clicking OK.

7.)
Request Stat Breakdown
- When you click this icon, t
he Request Stat Breakdown box will pop up. The Matchup and Game Date will ALWAYS automatically appear, you will be required to enter:
jersey color for your opponent




jersey color for your team




select quarters or halves




enter the length in minutes



score is optional but helpful to our statisticians


If you have already purchased a Stat Package, you will enter your information and the bottom of this screen will tell you how many breakdowns you have remaining:




If you are paying per game for stat breakdown, you will be able to enter your credit/debit card information via the platform, per purchase.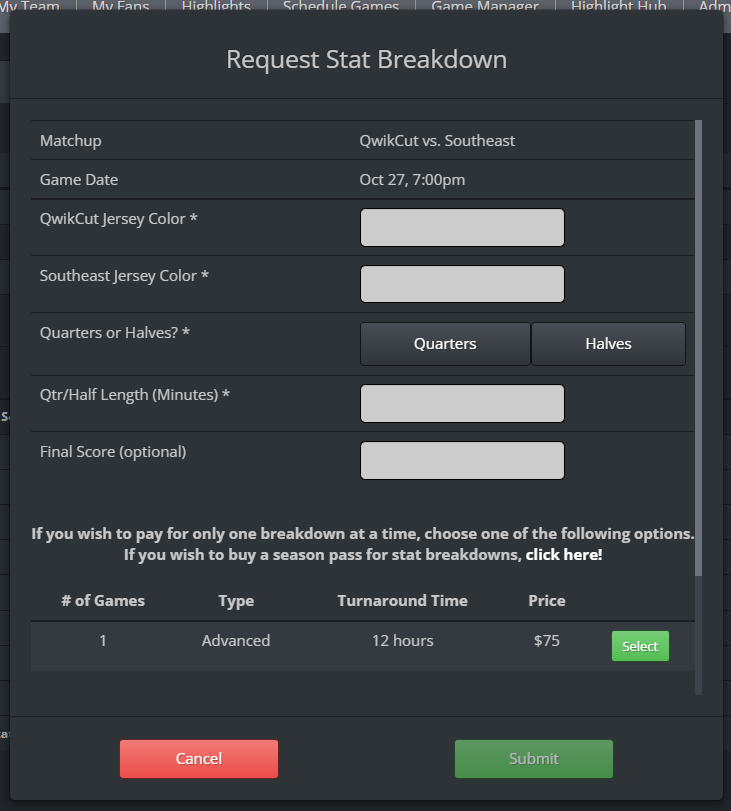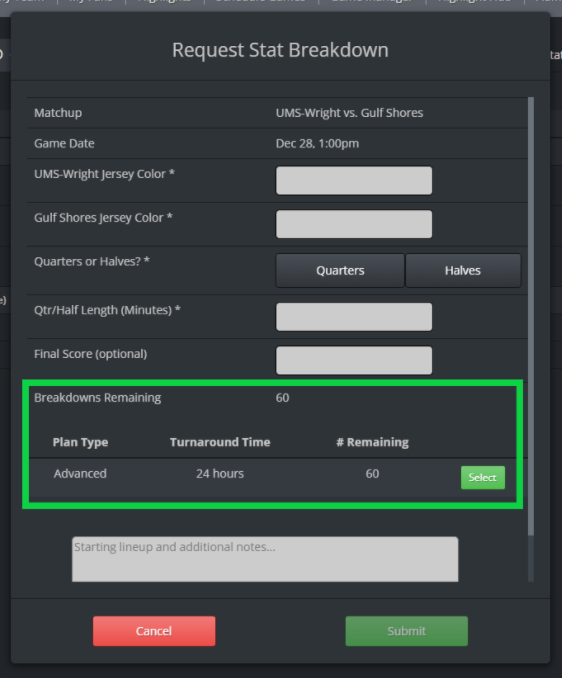 8.) Delete/Remove Game from Shared Library - depending where you are viewing (Misc/Exchanged Games or Schedule) the trash icon will perform the same action of removed game:



9.) Contact Support - By clicking this, an email will auto-generate in whatever email service that you use. It will have already entered your email address (always confirm this is correct and accessible as this is how we will correspond with you), QwikCut Support email address, created a subject line (DO NOT CHANGE) that will help us identify the game/practice/scout film you are inquiring about. You can then free text in the body of the email anything that you would like, the more information you can provide, the better!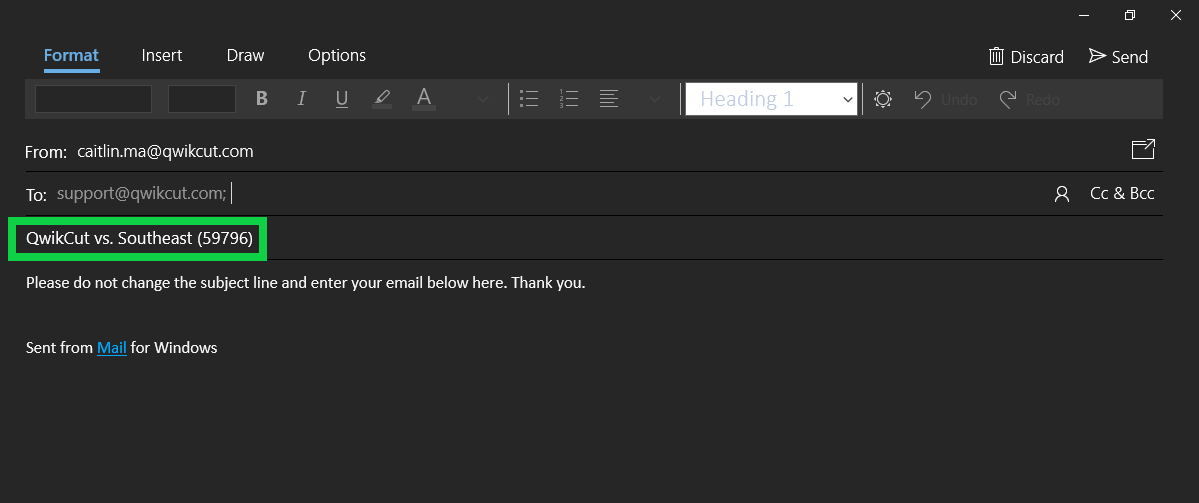 10.) Create New Practice or Create New Scout Game - You will see these icons appear all the way to the right of the practice and scout video. Depending which one you click on, you will have the Create Game box appears and the type already selected: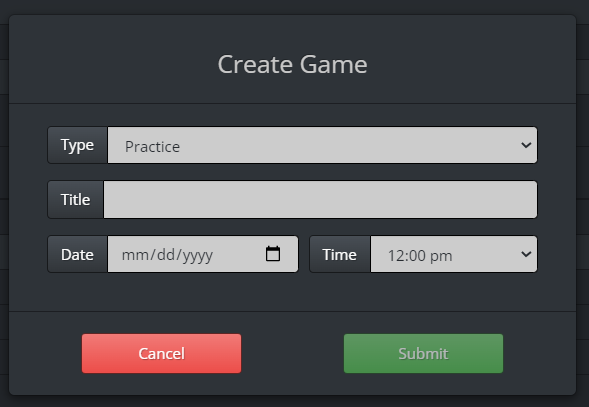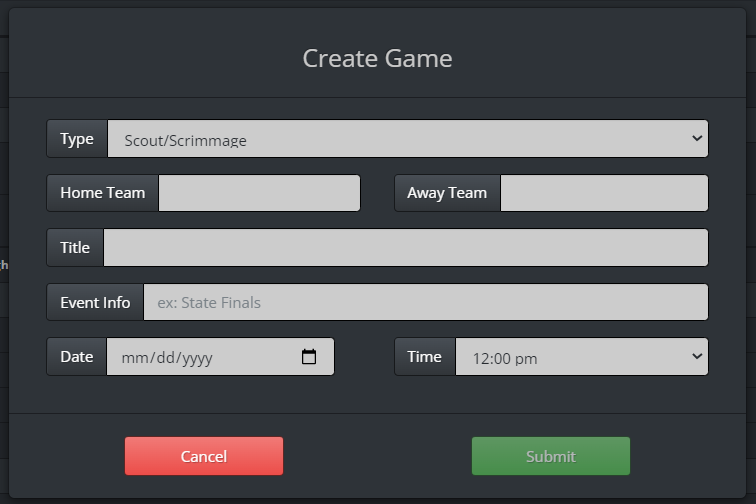 11.)
Import Practice from Hudl or Import Scout Game from Hudl
-
You will see these icons appear all the way to the right of the practice and scout video. Depending which one you click on, you will have the Import Game from Hudl box appears and the type already selected: