Camera Operator - Support Ticket
If you are experiencing an issue, we request that you submit a
Support Ticket
as we have many members on our Support Team that assist the Video Operations Team. While you may be texting one person to advise of an update or issue, that person may not be working at the time or is pre-occupied with other tasks and cannot respond immediately. The benefit of submitting a Support Ticket is that everyone within our company has access to view submissions and allows us to work as a team and be on the same page. The following things are examples of what you can submit a Support Ticket for:
You are running late to your game, stuck in traffic, etc.

You are unable to make your game (after accepting it)


If a game(s) have been assigned to you and you are unable to film, simply decline the assignment within the mobile app

You arrived at the field and no one is there

There is a weather delay

Cancelations of ANY kind


This must be a coach, AD, or someone from the team informing you

When submitting a Support Ticket, please include the level for youth games


You are experiencing uploading issue(s)

You have ANY equipment issues or you broke something


Please be as specific and detailed as possible with what the issue is

We understand that over time there is wear and tear on equipment but we need to be made aware of it as soon as it happens so we can purchase a replacement if need be


You lost equipment
You are having an issue with filming within the mobile app

You are not being allowed into the game

You are not being allowed into the pressbox to film


You MUST include a valid email and phone number that you have access to as that is how our support staff corresponds with you.
Please see the images below as examples of what submitting a Support Ticket looks like: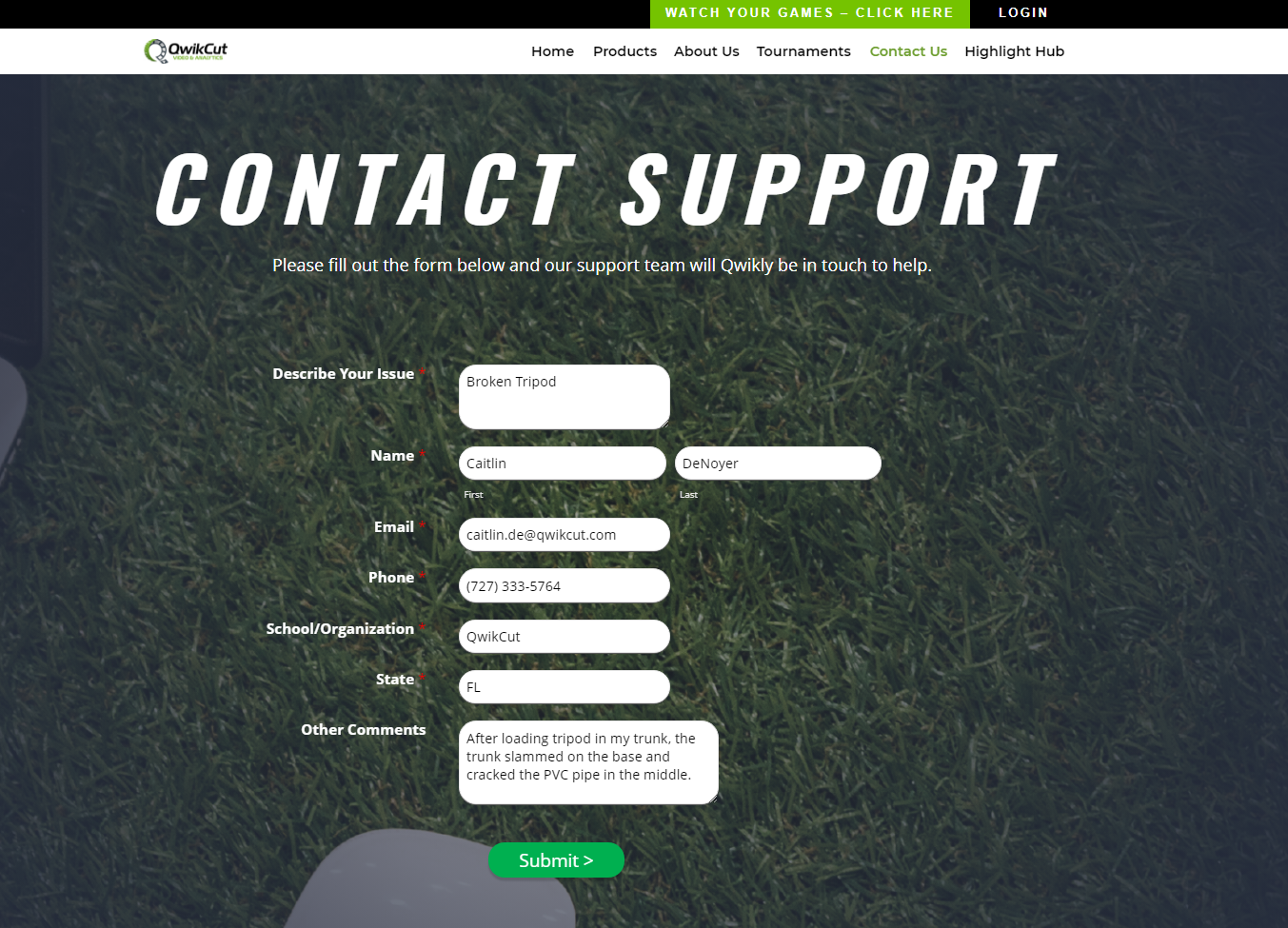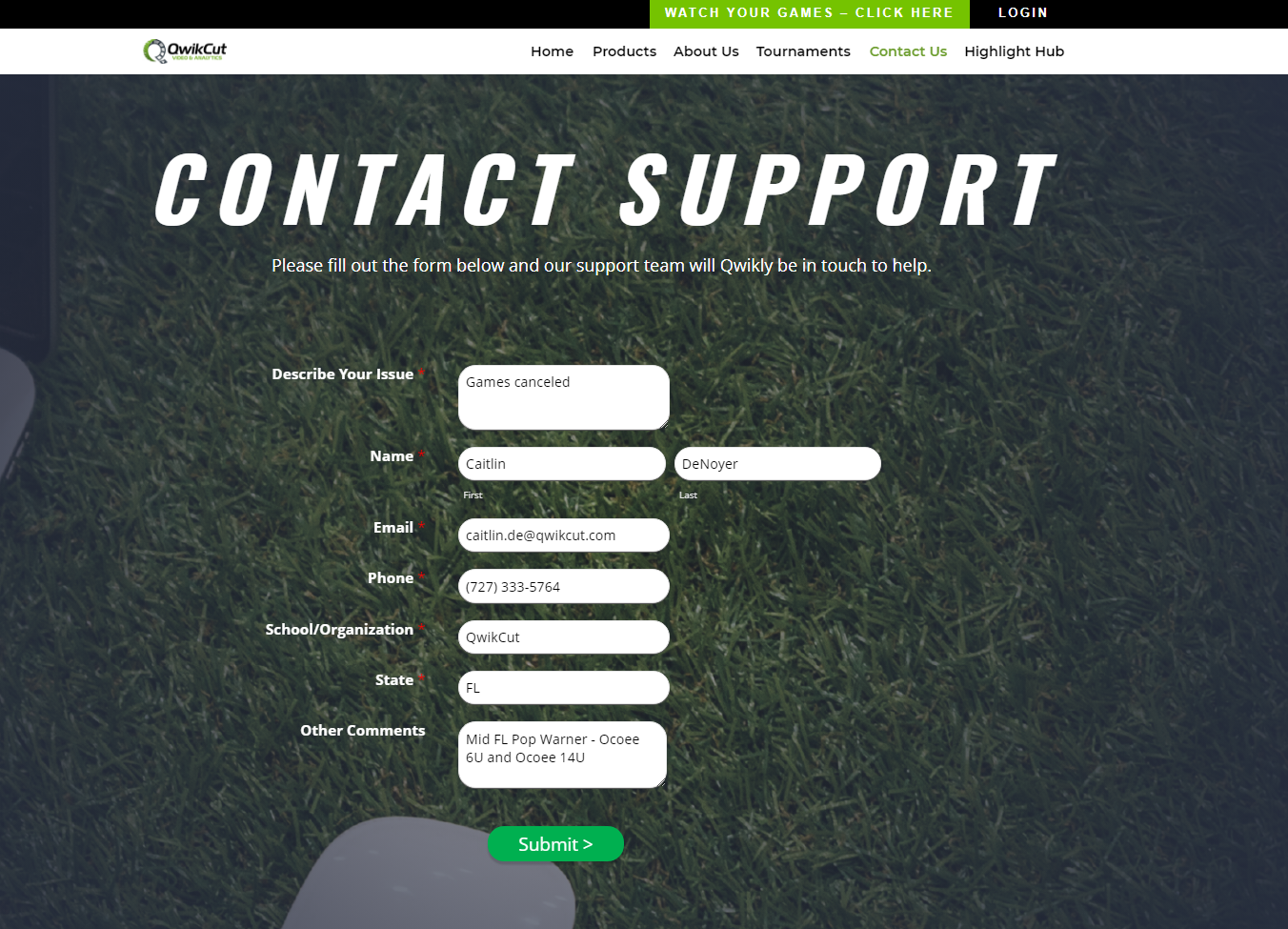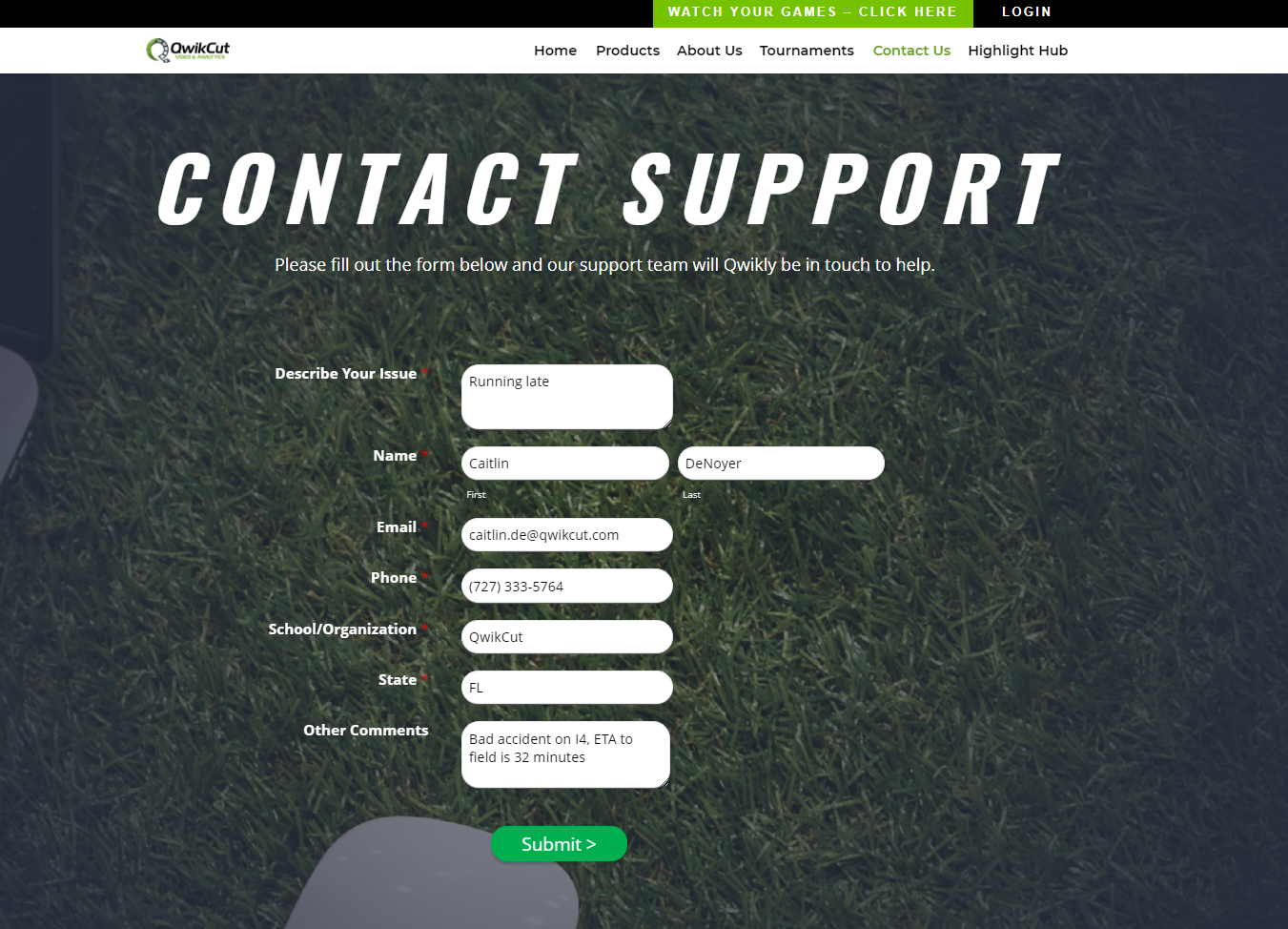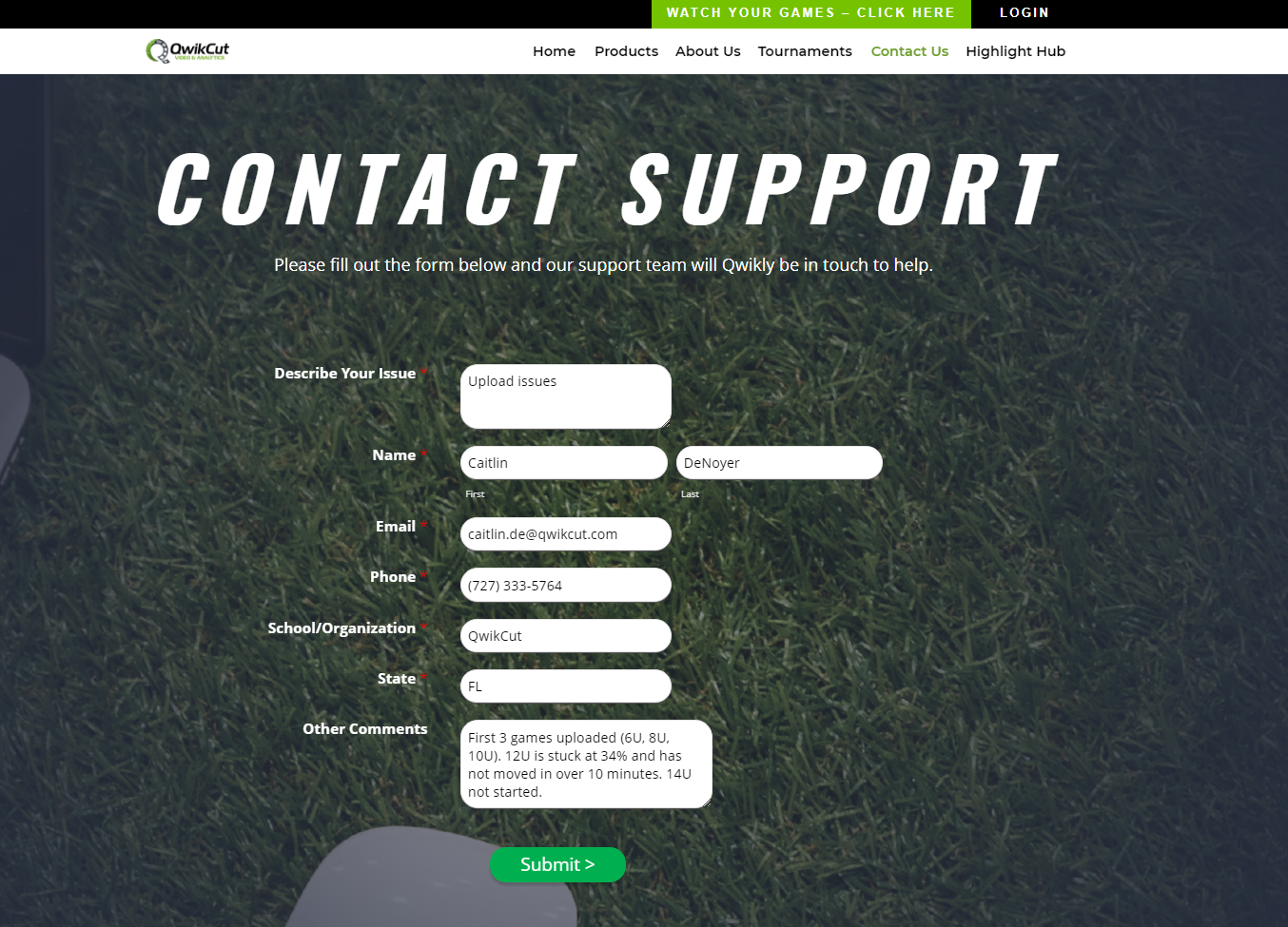 Once your Support Ticket is submitted, this is what our Support Team sees:

The Support Team will respond with "Thank you for reaching out to Support - information received." If there is further information/clarification needed, they may reply back to the Support Ticket, which will be sent to your email creating a thread or they may call you if it is urgent or time sensitive.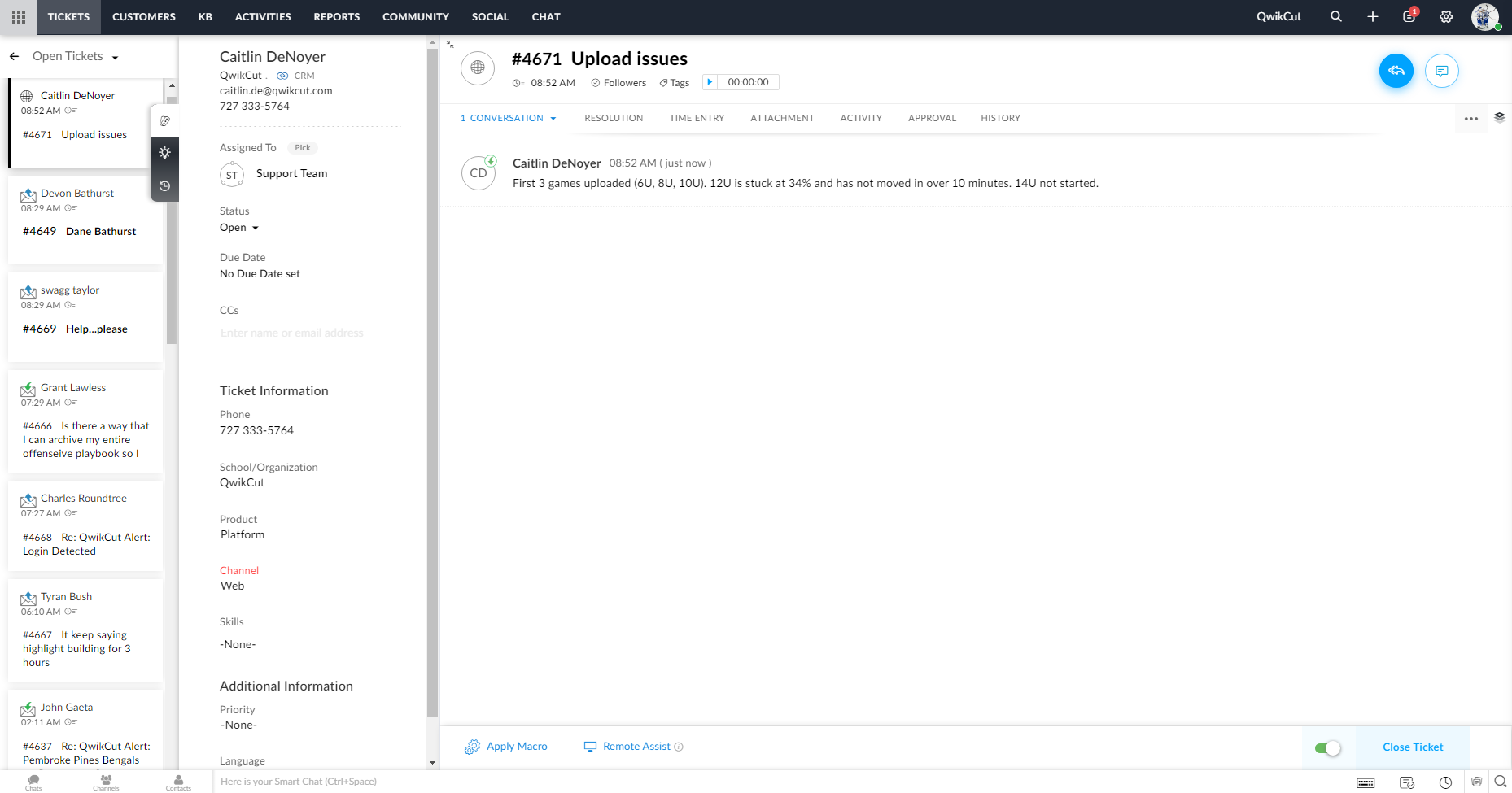 Related Articles

Camera Operator 101

We are so glad to have you as a part of the QwikCut team! The first item that we would like for you to have access to is the Camera Operator - Admittance Request. Below you will find links to common tasks you will be required to perform as well as ...

Camera Operator - Admittance Request

Over the years, we have always requested that the AD be aware of who is filming the game that week and advise whomever is working the gate allowing attendees in. Where we typically run into issues is when the team that we film for has an away game. ...

Camera Operator - Why do I need to check-in on the mobile app?

The reason it is so important is because that is how we confirm the camera operator has arrived at the field to film, without having to call and/or text you. On our end, we are able to see when you accept or deny your assignment, when you check in ...

Camera Operator - Film Review

This is a process that takes place by QwikCut staff after you have finished filming. This process allows us to reflect on your arrival time, inspect how you are filming and document accordingly to conduct a 1-on-1 review. Below is a look into the ...

ALL SPORTS - How do I access the Knowledge Base from the platform?

When you are logged into your team in QwikCut, at the top right corner to can click on the words Knowledge Base: No matter where you are in the platform, you will always be able to access the Knowledge Base. By clicking on the Knowledge Base from the ...