FOOTBALL (youth) - Can I purchase game film if the team did not? 2.0
Yes, after the season is over. There are currently two options; we can:
1.) Provide you with download links for all of the games for $50.00
2.) Provide you with a flash drive (USB stick) with all games for $75.00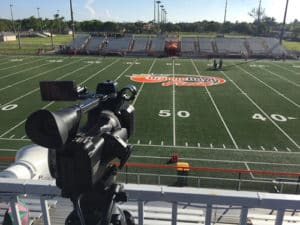 If you are interested in purchasing film, please reach out to our
Support Team
and they can assist you in this process!
Related Articles

Can I purchase individual games and/or season pass?

Yes! The teams have the option to set a per-game price as well as set a flat amount rate for a season pass. You can access this on your My Games page, and locate the purchase game and purchase season pass buttons for more information. Once you have ...

FOOTBALL - How do I film using the QwikCut app? 2.0

1.) Open the QwikCut App on your smartphone or tablet (Apple or Android) and log in. 2.) Under the My Video tab, locate My Games, tap on the game that you want to film. 3.) Tap on the 3 dots to the right of Game Video. 4.) Select Game ...

Remote Controllers for Game Film Review

Within the QwikCut platform, users can review game-film with a bluetooth or USB remote control. (often referred to as a Cowboy Remote) While the system has been tested with an Xbox controller and a bluetooth multimedia remote, we can't guarantee ...

How to Get Your Game Film from Pixellot

After your Pixellot broadcast is over, you can have download links for your game or practice film automatically emailed to you or whomever you chose! You can set these up as automated emails for every type of sport and every level. For each team ...

FOOTBALL - How do I move a practice/game from my Misc/Exchanged games folder? 2.0

You will be able to complete this action by being on the My Video page, then locate your Misc/Exchanged Games folder. Depending upon how many items you have in this folder, you will need to locate the film you want to move and click the gear icon, ...