BASKETBALL - Stat Icons 2.0
Your stat menu will appear along the left AND right panel of your screen, with the video player in the middle.

Left Panel:


Team - these will always reflect to the game you are viewing

Possessions

Qtr/Half

Shot Type

2 Pt FGs - 2 point field goal
3 Pt FGs - 3 point field goal

Shot Result

Other Stats

Off Reb - offense rebound
BLOB - baseline out-of-bounds pass
Def Reb - defense rebound
SLOB - sideline out-of-bounds pass
Start Capture - will allow you to control the amount of film you capture
Quick Capture - will capture 3 seconds prior and 7 seconds after

Right Panel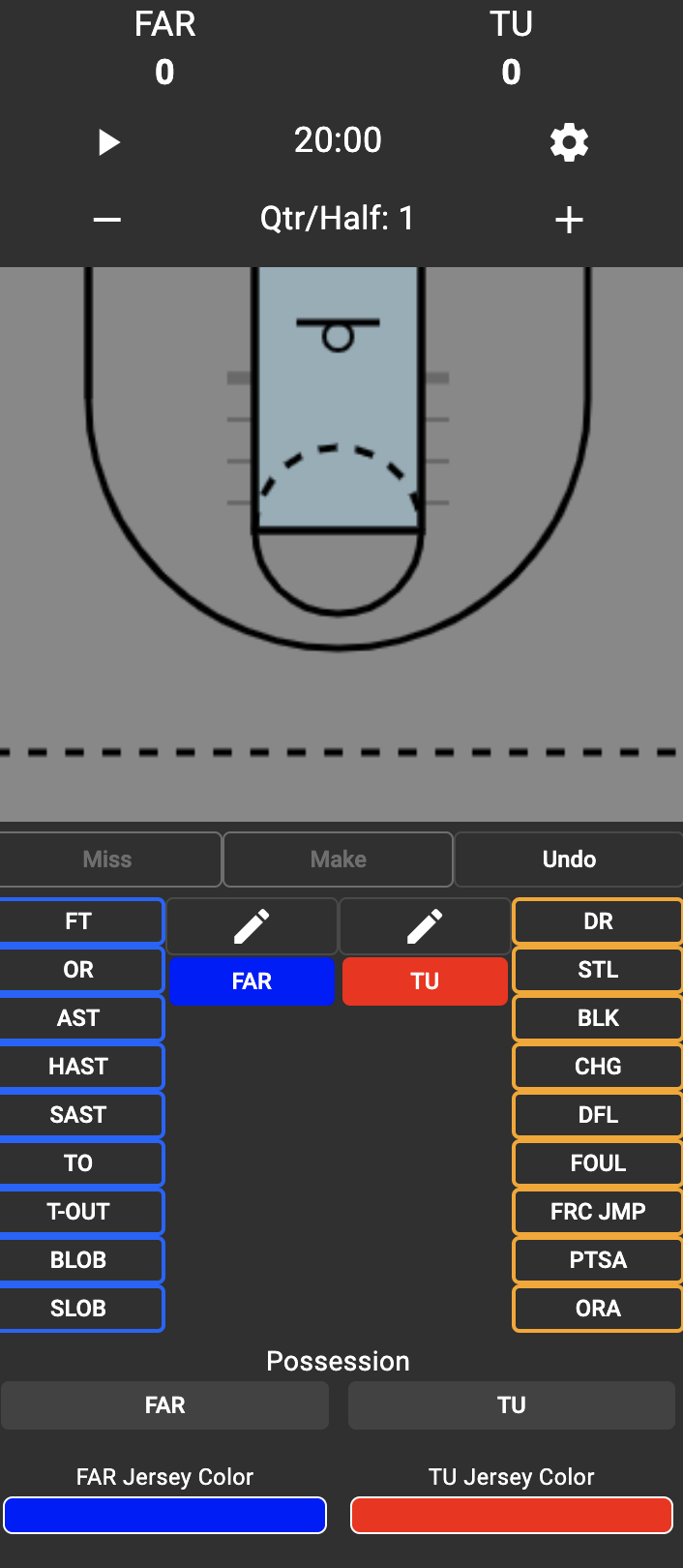 Go Back - this will bring you back to the main schedule on the My Video page

Game Info

Add Note - free text notes throughout the game

Export Stats

Shot Chart

Miss

Make

Undo

FT - free throw

AST - assist

TO - turn over

T-OUT - time out

BLOB -baseline out-of-bounds pass

SLOB - sideline out0of-bounds pass

DR - defense rebound

STL - steal

BLK - block

CHG - charge drawn

DFL - deflection

FOUL - personal foul

FRC JMP - force jump
Possession

Opponent

Your team

Jersey Colors
Related Articles

BASKETBALL - My Video Page Icons 2.0

The first button you will find is the add button at the very top. Clicking this will give you two options: The two options are to create an event, or a new folder: Clicking New Event will open a Create New Game screen. Fill out the information here ...

BASKETBALL - My Video Player Icons 2.0

Along the bottom of the video player, you will see multiple icons. We will go through the icons in three sections from left to right: SECTION 1: In the first section, you will find the icons relating to the playing, pausing, fast forward, rewinding, ...

BASKETBALL - How to submit a game for Stat Breakdown - 2.0

DURING REGULAR REASON (NOT PLAYOFFS/CHAMPIONSHIP, ETC.) THERE IS A MAXIMUM LIMIT OF 3 GAMES PER DAY! The process will be the same for your game or scout games. From the My Video page, locate the game that you want to submit and click the title of the ...

BASKETBALL - QwikTags 2.0

Creating highlights has never been easier! This is a great way for athletes and/or coaches to easily mark a favorite or special play in the game. You can then use QwikTags later to easily build your highlights. Three awesome features about the ...

ALL SPORTS - Stat Breakdown Information

With a simple click, the games that you need broken down will be placed in our que for breakdown. Depending on the sport, we offer two types of break down, basic breakdown which is a 24 hour turnaround time and advanced breakdown which is a 12 hour ...