Once you have added your athletes, you can go in and edit an athlete's profile. Add jersey
numbers, height, weight, and year of graduation, etc., by clicking the cogwheel and heading to Edit Athlete Metrics, you can adjust every value for a specific player.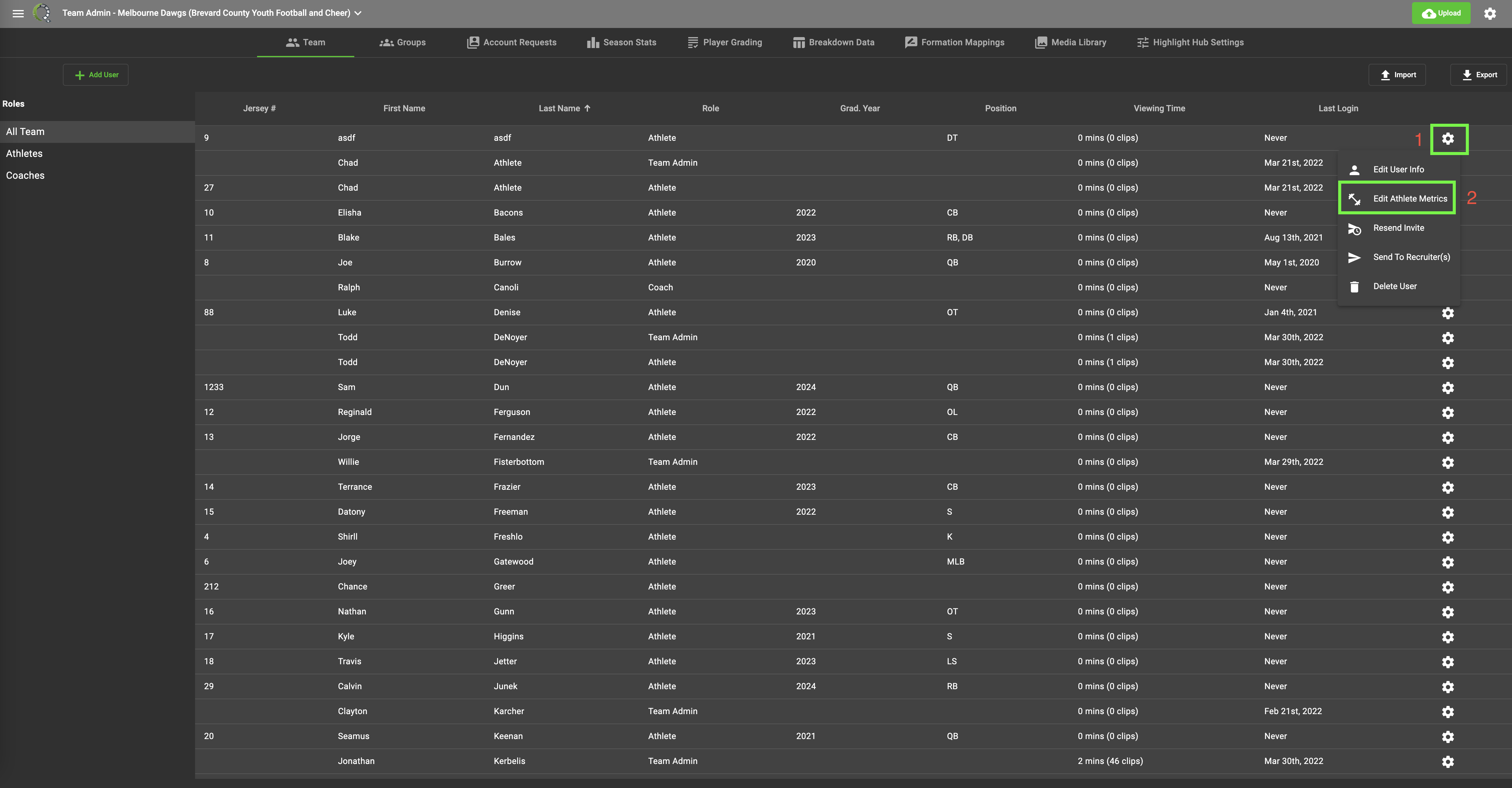 Go to the My Team tab at the top of the page.
Next, select the Player Grading tab and the Grading Admin section will appear for editing.


Grading Categories
By default, each team has a table of three (3) grading categories (Grade, Hustle,
Technique). Add, edit, or delete categories as you deem necessary. You can change the name of the category, add your own category, and add your own grading scale if you prefer.
*Please note: The Categories and Scales listed will be visible for every play type (Offense, Defense, Kickoff, Punt, Punt Return, etc)



Helpful Hint – Narrow your Grading Categories to cover all play types. If you utilize
three (3) or more Grading Categories, they will all appear for each Play Type. Coaches on Offense or Defense may elect not to use a grading category even if it appears in the player grading box. For example, the defense may not use all the grading categories that the offense uses. Even though they will appear in the box to grade, coaches can simply leave that grading category blank.
Play Types/Packages/String
Head Coaches may want to make their OC and DC "Team Admins" so they can set up
their Offensive & Defensive Packages. Click through the different play types and determine if you want to grade players on every play type or just certain ones.
First, Select the Play Type. (Offense, Defense, Kickoff, Punt, etc…)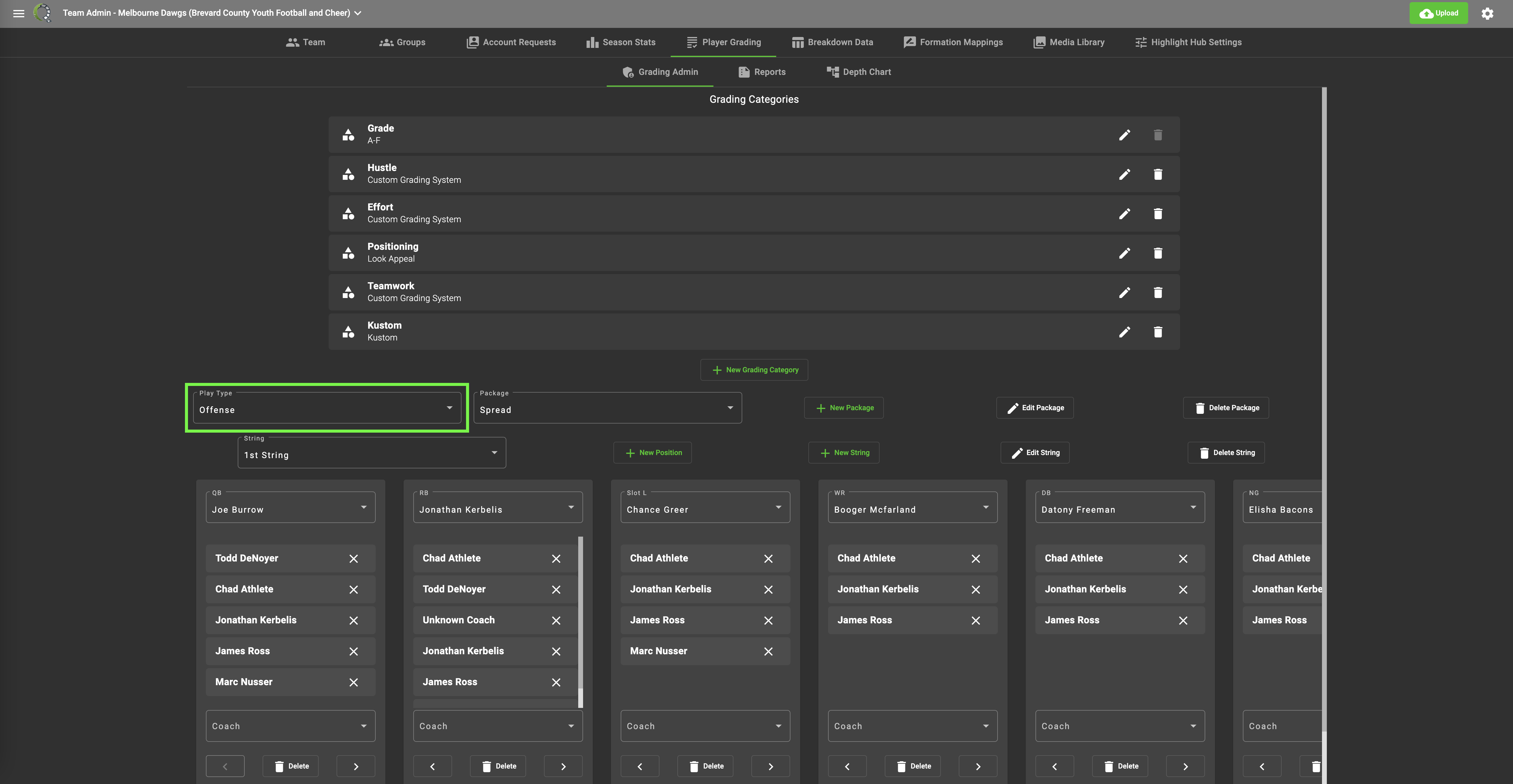 Second,
Click New Package+ to name your first Package. (21, Cobalt, Nickel, etc…)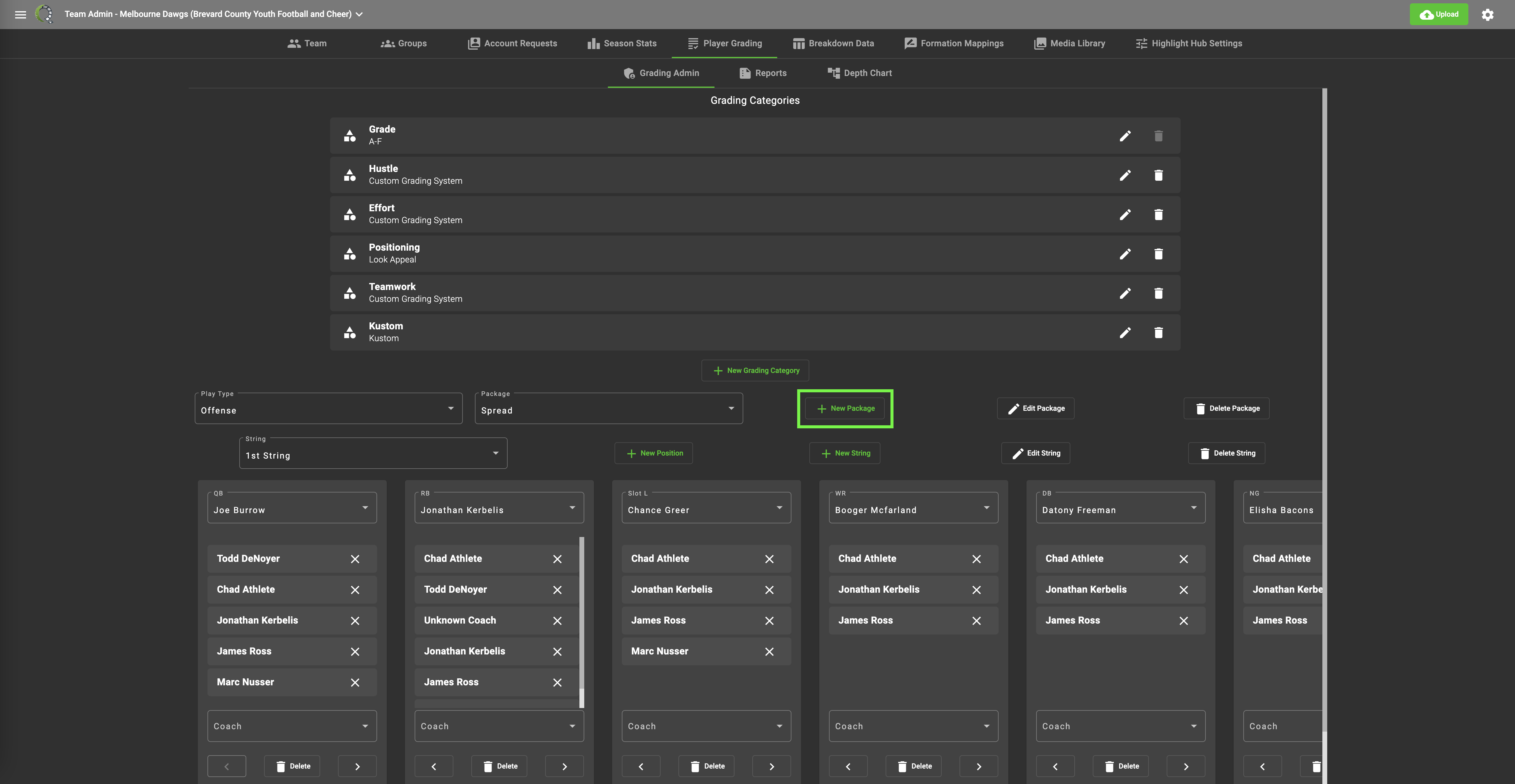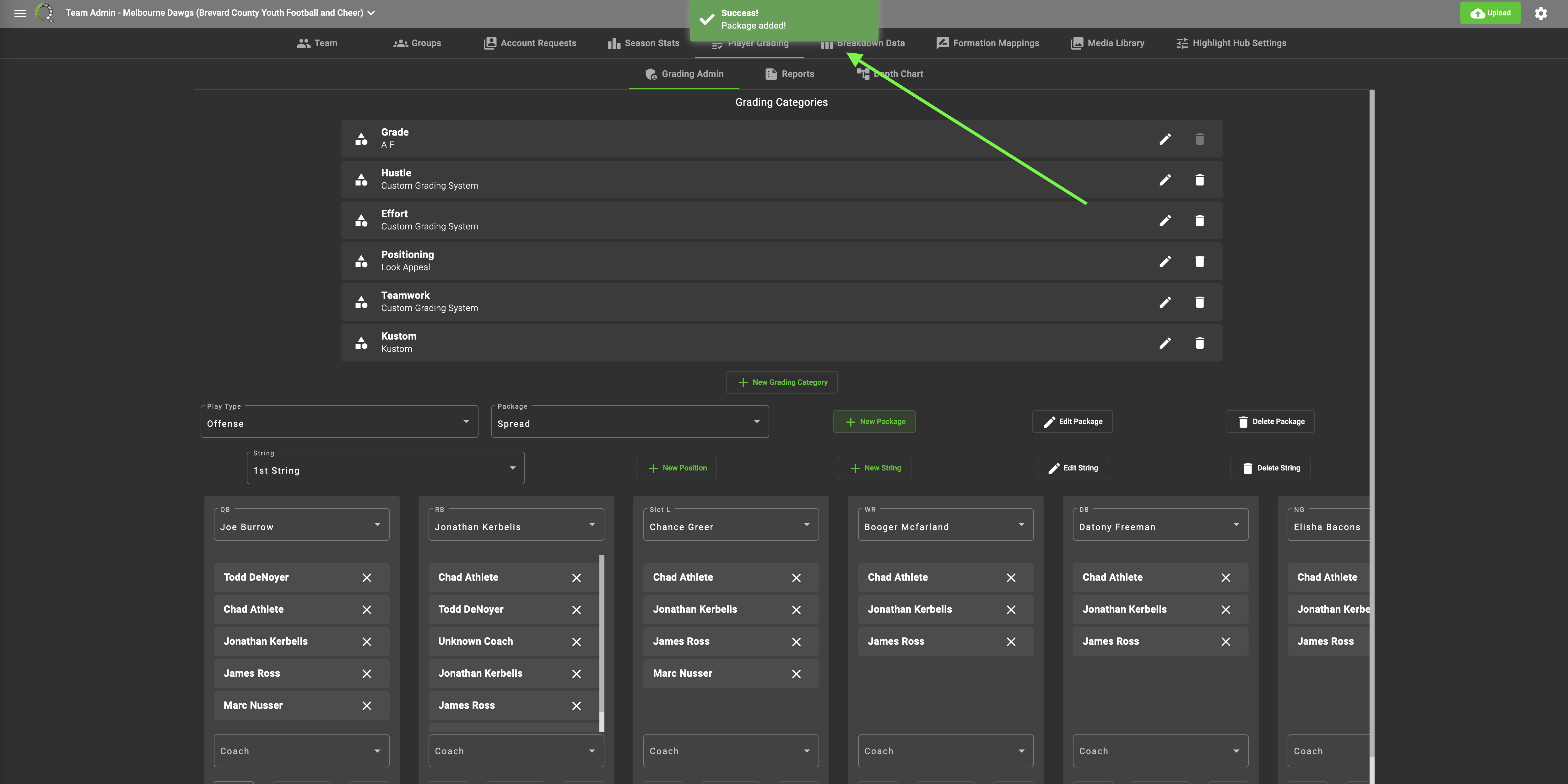 Third, Click
Add New String+. (First String, Second String, etc…)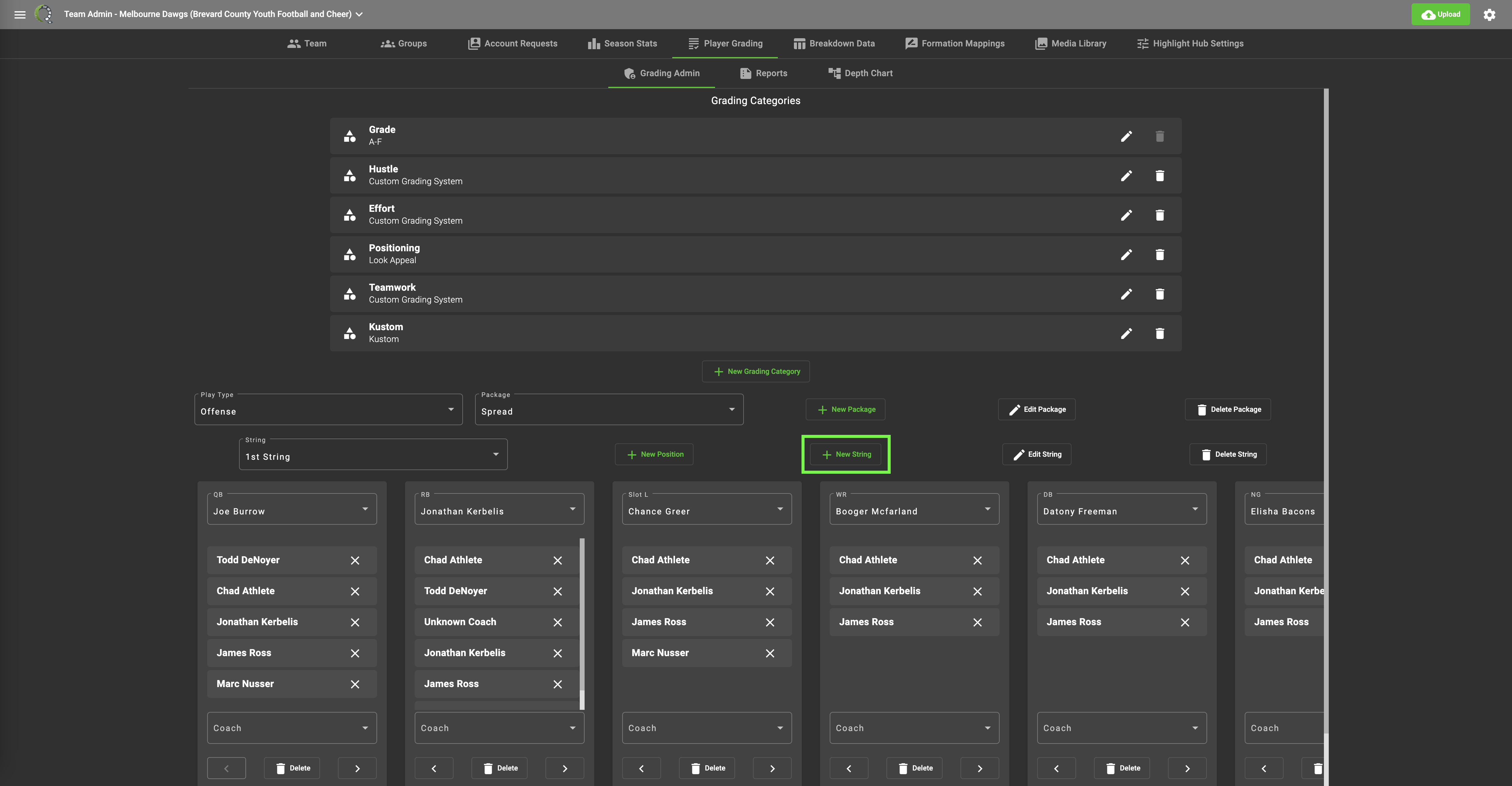 Once you have created the name of the package, select the package in the drop down menu and you will see a box with a green plus
sign labeled New Position. Click on the box to create the position.

Use abbreviations to identify the different positions (QB for quarterback, RB for Running back, etc.). Keeping clicking the green + sign till you have created all 11 positions for that play type. Position names must be unique.

Repeat this process for every play type that you want to grade. You can also create a second string, a third String, etc. so that your coaches and players can see the depth chart for each play type and each position.

Helpful Hint – Keep athlete boxes grouped together by position or line of scrimmage
placement.

Step 3 - Assign Starters and Coaches

Helpful Hint -
make your offensive Coordinator and Defensive Coordinator "Team Admins" so they can edit the starters all season. Only Team Admins can add starters and coaches for player grading.
There are two drop down menus for each position created. The top box(position) is connected to the roster. Click the down arrow in the top box and you will see your entire roster. Find the athlete that is in this lineup for that position. Do this for every position.
Once you have named the starters for every position, create a second string, third string, etc. so that you will have depth charts for your athletes to see.




Planning and Usage Suggestions:
#1
If you have a small coaching staff, you may want to assign every coach to every play type and every position. This allows every coach to add player comments or and coaches comments.
#2
All coaches notes are automatically by default blocked from the players. This is a communication link between coaches. If a coach wants to make his message public to the team, he needs to unblock it. The entire team has access to coaches notes. Coaches can't unblock other coaches' comments. They can only unblock their own comments.
#3
Always be careful with your comments. Instruct your coaching staff to be constructive with their comments. It's always possible for an athlete to take a screen shot of the comments.